Marquee Hire Equipment
Furniture hire - chairs and tables
Chair and Table hire is often one of the most important aspects to select for your event, with a huge variety to choose from. We provide a full range of chairs and tables to suit every event and budget. Whether you choose to hire a marquee from us or not, we are more than happy to provide the chairs and tables you require in Wiltshire and surrounding areas.
5 reasons to choose Premium Marquees for your furniture hire
We maintain all of our furniture to the highest standards. We do not provide substandard equipment to any of our customers

We can offer a fully flexible service and will do our best to meet all your needs whatever the venue and its requirements

We will deliver and set out your furniture to your requirements. This has no extra charge and is simply part of our service

We are friendly and a trustworthy partner who will always be available at the end of a phone no matter what the reason

We are able to provide furniture 'at the last minute' should an emergency need arise!
Dance floor and stage hire
A variety of dance floors and staging units can be provided. You can choose between the traditional parquet dance floor, or for that extra-special occasion, our stunning black and white chequered dance floor.
We also supply a range of stage hire options as required. This may be for a band, a DJ or simply as a raised area for guests. Whatever you require we will be only too happy to help!
Traditional dance floors
Choose our traditional parquet dance floor to provide the perfect platform for your guests to enjoy. All our dance floors are painstakingly maintained and cleaned after every event to ensure you are provided with the best possible product for your event.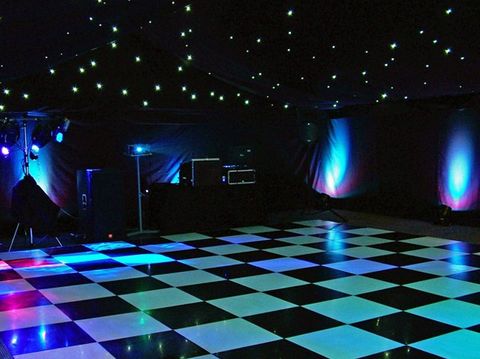 New L.E.D Dance Floors
Brand new to the UK, we can now offer absolutely amazing LED dance floors. They are simply stunning and are perfect for wedding functions and corporate parties.
Heating and lighting hire
Our team are able to provide a range of lighting and heating hire requirements to suit your needs. Indeed, lighting can be vital in creating the right mood for your event and we supply a variety of indoor and outdoor options as required.
Up lighters
Up lighters are the most cost-effective method of lighting your marquee and provide a stunning backdrop for your event. Up lighters can be fitted in as greater quantities as required while also being used to light required features. Up lighters can also be fitted with a number of different coloured gels which can be changed to suit a colour theme as required. Up lighters can also be supplied with a dimmer unit allowing you to control the ambience of your marquee event throughout.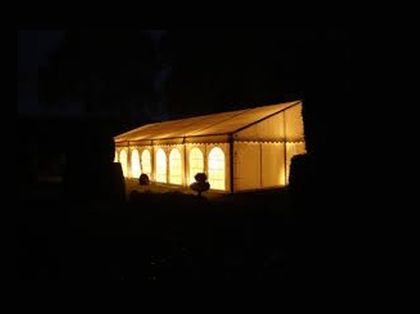 Chandeliers
For a marquee lighting option that is a bit more sophisticated why not have chandeliers added to your marquee.
Particularly popular with wedding marquees, are our range of chandeliers which will help to provide that classic finishing touch.
Once again, these can be fitted with a dimmer switch option and coloured bulbs if you prefer.
We can help you choose the best option for your event.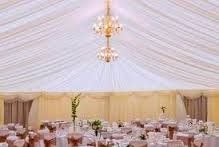 Spotlights and outdoor effects
If you are looking for outdoor lighting, we offer a variety of options. Whether you simply want to illuminate an outside area, provide subtle guiding lighting on a gravel path, or spotlight a specific tree, structure or building, we have a variety of lights and colours to choose from.
We are also able to provide a number of laser-operated special effects which can create projected images or messages on to a surface of your choice!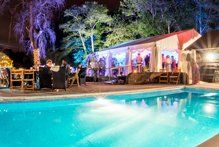 Marquee heating hire options
Whether for the colder months or simply to keep the chill out during the early hours of the morning, we can provide a range of marquee heating hire packages that will suit your requirements. Thermostatically controlled our heating systems will allow you to maintain your marquees at the temperature selected by you.
We will fully install your heating system for you ensuring its correct operation at every event. Furthermore, we remain on call 24 hours a day should the need arise.
Linings
Although all our marquees are rigorously maintained and cleaned, the majority of customers will opt for an internal lining to really transform the interior into something special. We offer a full selection of internal linings for all of their marquees.
Normally these are ivory pleated but we are able to supply a variety of colours to suit your needs.
These linings can be further personalised by the addition of different coloured valences or leg covers.
For an extra special effect, we can also supply a starlight roof system, which can either be placed over a dance area or the whole marquee area if required.
Reveal curtains can also be fitted to your venue to hide an area from view (often a dance area). These can then be lifted at an opportune time to reveal the space behind as required.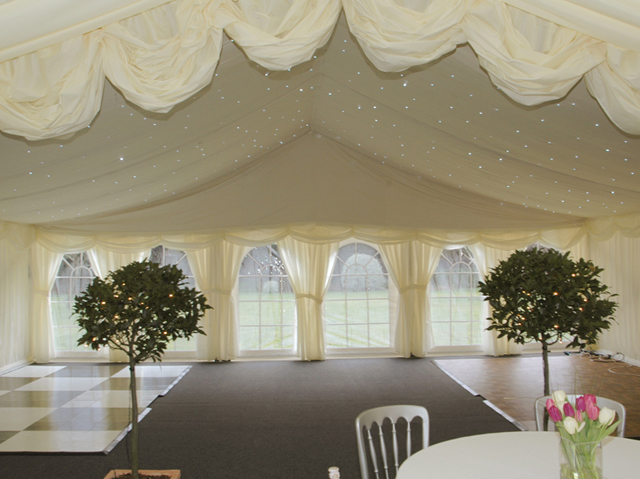 Flooring
For the marquee floor, we are able to offer a variety of carpets to suit a large variety of colour theme requirements. For a basic flooring we can also supply coconut matting which provides a cost effective solution. For the colder winter months (or for a special summer occasion) we are also able to provide a solid hardwood flooring option for your Multispan marquee.
Once again, this can be covered by a coloured carpet of your choice.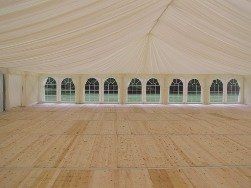 Decoration
We pride ourselves on the finishing touches that help make your event a special one. As such we are happy to offer a full dressing service for the interior of your marquee right down to the table set up. We also offer a full venue dressing service using our range of linings.
Please call to discuss your venue's requirements.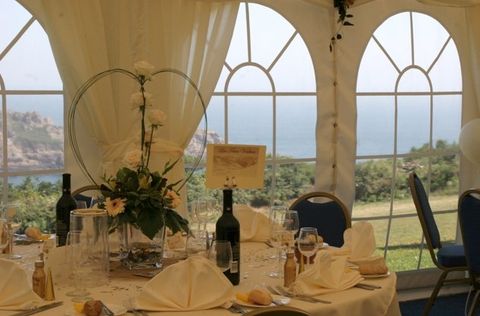 Portable toilet hire
Through them, we are able to provide you with a complete range varying from plastic loos through to luxury built-in facilities. If you would like advice on what is most suitable for your event, please do not hesitate to ask.
We will happily organise all your requirements for you meaning you only have to deal with one company, or alternatively, please feel free to contact either of our recommended suppliers directly.